The Best 8 Career Aptitude Tests
Looking for guidance on your career path can feel overwhelming, but the best career aptitude tests can help you make more informed decisions. Career tests are meant to help you find new career options and learn more about yourself by determining what you like and how you work.
Each test has its advantages and drawbacks, and we'll highlight the best career tests and how they work. We'll also cover the benefits of taking a career test and how to choose the right one for you.
Discover your career potential with JobTest.org and build the future you deserve.
What is a Career Aptitude Test?
A career aptitude test looks at your skills and interests to help you figure out what kinds of jobs you might be good at. Usually, you'll be asked a series of questions to test your communication, problem-solving, critical thinking, and creative skills. The results of the test will show you possible jobs that match your skills and strengths.
Career aptitude tests are typically administered online and are designed for anyone, whether you're a student looking for the right career path or someone who wants something new.
Top 8 Career Aptitude Tests
A career aptitude test can help you learn about your strengths, interests, and potential career paths. This section lists the top eight career aptitude tests, each of which has a different way of helping you find the right career.
JobTest.org
JobTest.org is our top pick for the best career aptitude test. It has a 15-minute questionnaire that assesses your skills, interests, background, and preferences to help you find good career paths. The test then makes a custom report based on AI and machine learning, giving you more detailed personal results and recommendations. JobTest.org's career aptitute test is constantly updated with the latest information on job prospects and pay so that it can provide you with the most accurate and personalized options.
JobTest.org charges $19.90 for a basic career test and an additional $10 for a comprehensive one. This price is about the same as what you would pay for other paid career tests, but JobTest.org's test algorithm gives very accurate and personalized results. It also has a unique, easy-to-use interface with interactive features and helpful instructions. While the current JobTest.org career test is available, it is still in beta with features under development. Nonetheless, we strongly recommend JobTest.org for career guidance and accurate results.
Pros
Uses a large set of data and statistics to provide comprehensive results and feedback
Has a visually-appealing interface with useful interactive features
Suitable for people of all ages, from college students to mid-career professionals
Serves as a one-stop shop from discovery to finding future career paths
Cons
The career test occasionally has bugs
The program is still a beta version and currently lacks some features
Bottom Line: JobTest.org offers the best career test for the value of the assessment. It gives you an excellent place to start when looking for a job and helps you determine your strengths, opportunities, career personality traits, and earning potential.
Truity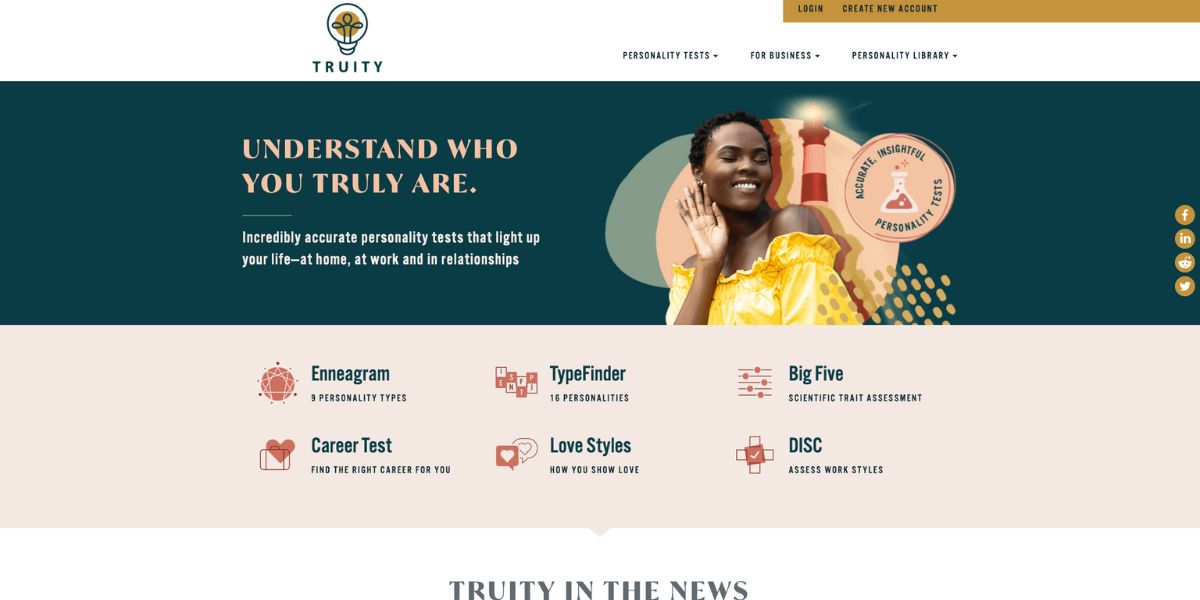 The career personality profiler on Truity is a free test that looks at your interests, values, strengths, and other traits to suggest possible career paths. Truity is one of the most reliable sources because it has several personality tests based on scientific research.
The test will consist of 94 questions and take approximately 15 minutes to complete. After that, you'll get a summary of your results, but you can pay $29 to get the full report. Truity's career test is a decent option for those who are just starting their career or want a quick source of inspiration.
Pros
A credible source with research-based methods and scientific testing
Simple and easy-to-use interface
Free option for those who want a basic overview
Cons
No visual content or additional features
Text-heavy and monotonous at times
Doesn't provide personalized results and feedback
Bottom Line: Truity's free career personality test is a good place to start if you want ideas for potential career paths, but it's not as accurate or intuitive as some other career tests.
CareerFitter
The CareerFitter career test consists of 60 questions and takes about 5 to 10 minutes to finish. It primarily focuses on your work personality and how you interact with others. CareerFitter uses a secret algorithm to predict possible jobs and earnings while highlighting your strengths.
The CareerFitter test is free, but the basic report doesn't include the recommendations and insights in the $19.95 premium 10-page career report. This test is a good starting point for those who want to see if they are the right fit for a specific position or industry or for those who are just starting their career search.
Pros
Uses algorithms developed by Psychological Assessment Research (PAR)
Claims companies, universities, and career professionals use its career test
Provides decent feedback in the free report
Cons
The quiz is somewhat short and not very interactive
The interface and design aren't as intuitive as other career tests
Bottom Line: The free career test on CareerFitter helps you figure out what you want to do with your life. For a fee, you can get a more detailed report. It's an excellent option for students or those seeking a career switch.
MAPP
MAPP (Motivational Appraisal Personal Potential) is a 22-minute career test with 71 questions. The assessment is intended to measure your instant reactions rather than deliberate responses, because the questions ask about your interests and aversions to elicit your intuitive feelings and discover your true career matches. The test has been reviewed by psychologists, and the results were found to be consistent over time.
The MAPP career test offers several paid options and a free assessment. You can look at your results right away, or you can pay extra for a more detailed report. It recommends your career goals, ideal vocational fields, and potential careers.
Pros
Developed and refined for nearly 30 years
The free report includes valuable information and insights on future career paths
Validity tested and proven to be reliable
Cons
Not the most user-friendly or interactive interface compared to other career tests
The higher-priced tiers are somewhat expensive
Bottom Line: MAPP is one of the oldest and most tested career assessments available, and it's an excellent option for job seekers, whether you're in high school, graduating from college, or looking for a new job that fits your personality better.
Princeton Review
The Princeton Review career quiz has 24 questions that help you figure out what you like to do and how you work best. It will ask you a series of hypothetical questions about your preferences, such as whether you prefer one type of job over another.
After you send in your results, the career assessment test will give you a list of possible jobs to look into. The Princeton Review career quiz is a great way to get free and useful ideas, and it only takes a few minutes to finish. While it is not the most comprehensive, it may be helpful for some quick advice.
Pros
Free and easily accessible online
Engaging and thought-provoking questions designed to gauge your interests
The results provide career recommendations and information about each professional life path
Cons
Relatively short quiz and may not provide the most accurate assessment of your career aptitudes
The results are somewhat limited and don't take into account the complete range of opportunities available
Bottom Line: The Princeton Review is reliable for various educational and professional development topics. Its career quiz is not the most advanced or thorough, but it is free and gives good suggestions.
123 Career Aptitude Test
The 123 Career Aptitude Test is one of the most popular career aptitude tests, and it can help you figure out what kind of job might be a good fit for you. Based on the Holland Code of personality types, it tells you what your results mean and can help you figure out what kinds of jobs you might enjoy.
The 123 Career Aptitude Test takes about 10 minutes and uses picture questions to figure out what kind of personality type you have. The test is free and comes with a standard career outlook report. 123 Test also has a practice aptitude test, assessment training, and several other tests to help you find the right career or personal insights to get started.
Pros
The test is entirely free to take
Only takes around 10 minutes to complete
Features straightforward and easy-to-understand illustrated questions
Cons
The career test only assesses a few interest areas
Relatively basic design and may not be as engaging as other career tests
Relies on self-reported data, which isn't always as objective
Bottom Line: For a free option, 123's career test is difficult to beat for anyone seeking career guidance. Some of the ways it works are based on research, but it might not be as thorough as other paid tests.
Keirsey Temperament
The Kerisey Temperament Test evaluates your personality and assigns it to one of four temperament types: artisan, guardian, idealist, or rational. About 70 questions make up the test, which can be finished in about 20 minutes. Keirsey's Temperament Test looks at your behavior patterns, communication style, favorite activities, and other traits to help you figure out what kind of job you might consider.
The test is free and has been taken by over 100 million people. It's one of the most popular tests and can help you figure out who you are and where you might fit in.
Pros
Provides a detailed report on your temperament type and preferences
Uses well-established research and psychological theories
Has been used by professional and developmental organizations for years
Cons
Only measures four personality dimensions, which may not capture the essence of everyone's personality
Doesn't provide specific career guidance
Bottom Line: The Keirsey Temperament Test is one of the most well-known personality tests and has been used for decades worldwide. While it provides useful insights into your personality, it does not offer specific career advice.
My Plan's Career Values Assessment
My Plan has a number of personality and career tests as well as an assessment of your career values. The 20-question career values assessment should take about 10 to 15 minutes to complete. This test assesses your underlying work preferences and motivations, which are classified into six work values.
My Plan will then provide a list of over 730 jobs that are ranked based on how well they match your responses. My Plan also offers career personality and interests tests between $7.95 and $9.95 and a complete test package for $19.95 for more in-depth career insights.
Pros
Offers a variety of career exploration resources to help you plan
Provides tailored recommendations according to your work values
Free to use with the option to purchase more comprehensive tests
Cons
Short test with relatively little interaction or additional features
Outdated website that lacks additional information
Bottom Line: My Plan offers a variety of helpful career aptitude and personality tests, and the free version is worth a try if you need career advice. However, its paid tests are more in-depth and include additional resources.
Why are Career Tests Important?
Career tests can help you determine the best future career options to pursue. Here are some of the reasons why career tests are essential for the beginning of your future career:
Find clarity: Career tests help you identify your strengths, interests, and values to determine which career path is best for you.
Get a head start: Career tests give you a clear starting point and save time exploring career paths that may or may not be a good fit for you.
Find hope: Career exploration can be stressful and anxious, and career tests can help alleviate your concerns by providing a structured approach.
Discover new opportunities: You can discover new paths and industries you may not know yet, broadening your career outlook and options.
Seek advice: Career aptitude tests typically include personalized action plans and helpful resources to assist you in setting and achieving your career goals.
Find consensus: Career tests can assure you that you're on the right track.
Gain self-awareness: Taking a career test and exploring your strengths, preferences, and work style can help you better understand yourself.
Increase your confidence: Knowing your future career path feels reassuring and gives you confidence, and career tests can help you get started.
Match your personal values: Your sense of purpose drives your long-term enjoyment in a career, and an aptitude test can help you identify career options that align with your values.
Increase your chances of success: Career tests can assist you in determining a career path well-suited to your strengths and interests, thereby increasing your chances of success and job satisfaction.
Benefits of Taking a Career Test
Career tests can help you determine your strengths, weaknesses, and work styles and how they will affect your future career paths. Here are some of the key benefits to expect after taking a career test.
Understand yourself
Career tests can help you gain clarity about who you are and what you want in a career by providing insights into your personality, preferences, and values.
Explore new career paths
You can learn about new job options you had never heard of or thought of before. This will give you more options and goals to think about.
Focus your search
If you need help deciding where to go next in your career, career tests can help you narrow down your choices based on what you like.
Set achievable goals
Career tests can help you make a practical career plan that fits with your strengths, values, and habits. This plan will be your road map as you move forward in your career.
Understand your work style
Everyone has different work preferences; career tests can help determine what environments, pacing, and communication styles work best for you.
Get a confidence boost
Taking a career test can give you peace of mind that you are on the right path and thinking about the right options. This can help you work harder toward your goals.
Make informed choices
The results of career tests can be used as a starting point for achieving your goals, providing a clearer picture of where you stand and what to do next.
Create a personalized plan
Career tests help you figure out what you're good at and what you're interested in so you can plan your career path and set goals you can reach.
Communicate your skills with others
A career test can help you better understand your skills, interests, and values, making it easier to communicate your strengths to potential employers and colleagues.
Find fulfillment
By matching your career to your interests and values, career tests can help you enjoy and be happy with your work more in the future.
How to Choose a Career Test
If you're considering a career aptitude test, you should look for a few things to ensure you choose the best career test for your needs. Here are some factors to consider before choosing one:
Purpose
Before selecting a career test, ask yourself what you hope to gain from the test. Do you want to discover your strengths and interests, or do you want to assess your abilities and skills? Career tests have different purposes, so choosing one based on your desired outcome is important.
Format
Think about how you like to take tests, whether you like to do them online, in person, or on paper. Consider whether you want a self-paced test or one moderated by a professional. Finding the best career test and ensuring it has a suitable format can affect its results' authenticity and accuracy.
Cost
Aptitude tests for careers range in price; some are free, and others are relatively expensive. Consider how much you want to budget and what test provides the best value for the cost. Even though the free career tests might be helpful, you want to make sure that your results are accurate.
Validity and reliability
When you choose a career test, make sure it has been tested and proven to be accurate by scientists. In other words, the test must have been thoroughly tested and found to produce accurate results. Valid and reliable career tests will help you have greater confidence in your assessments.
Credibility
Check the reputation and credibility of the person or group who made the test before you take it. Other professionals in the field have vetted the best career aptitude tests, so you shouldn't trust tests that lack third-party reviews and credible developers.
Customization
Since career tests are used for different things, you should decide if you want specific advice or if you want more general feedback. Think about whether you need a personalized assessment, and then choose the test that will give you the information you need.
Tips for Taking a Career Test
Taking a career test can be important in figuring out what you want to do with your life. These tips can help you prepare well, answer questions strategically, and avoid making common mistakes.
Familiarize yourself with the test format
Take time to understand the test format before you start. Knowing the types of questions and the time limit can help you plan a strategy for answering them.
Prepare before the test
Make sure you feel rested and ready to take the test. You want to avoid feeling fatigued so that you can answer the questions to the best of your ability.
Avoid outside distractions
Try to take the test in a quiet and distraction-free environment. Avoid distractions such as phone calls or notifications. You'll want to find a space where it's easy to focus on the task at hand.
Answer honestly and accurately
Career tests do not have "correct" answers like academic tests, so you should answer the questions honestly based on your thoughts and preferences.
Avoid second-guessing yourself
Answer questions naturally, according to your gut feelings and instincts, rather than overanalyzing what they're trying to ask. Be yourself!
Don't rush through the test
Take your time and do your best to relax. Career tests aren't races, so take time to reach each question and the possible answers.
Take breaks if needed
If you find yourself losing focus, consider taking a short break. Move your body, stretch, take a few deep breaths, or grab a nutritious snack to help you refocus.
Understand your results
Use the test results as a starting point for future career exploration. However, always remember that the test results are only one indicator to consider when making career decisions. You should also seek professional guidance, speak with people in the industry, and explore other resources for career guidance.
Final Thoughts
Career aptitude tests are an excellent way for anyone of any age or background to get career advice based on their personality and how they like to work. We've discussed the best aptitude tests for you to think about, but don't stop there.
Talk to people in various industries, consult a professional, and keep researching where you might fit. However, if you're looking for a comprehensive solution to uncover the ideal career path tailored to your unique strengths and interests, consider taking the best career path test available.
This specialized assessment will help you gain valuable insights and make informed decisions about your professional journey. With the proper guidance from this test, you'll be equipped with the knowledge and confidence to embark on the best career path for you in no time.
Ready to advance your career? Visit JobTest.org to start building the future you deserve.